What's Your Favorite Fall/Winter Dish? ...
Fall/Winter is finally here...which means lots of root vegetables, stone fruits, squash, and more. What healthy recipes will you make in the new season? Check out our top five healthy recipes below!
Top Five Fall/Winter Recipes

Freekah Salad with Feta & Dried Cranberries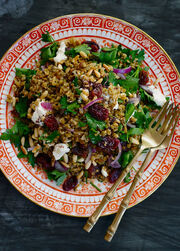 Have you heard of freekah yet? If you haven't, it's time you did! It's the hottest new grain, aside from quinoa or barley or farro, with a high protein and fiber content. This salad is light, fresh, and delicious. Enjoy!
Click here for the recipe...

What is your favorite kind of whole grain?