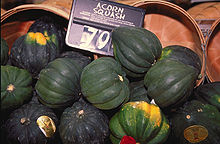 Acorn squash (Cucurbita pepo) is a winter squash with distinctive longitudinal ridges and sweet, yellow-orange flesh. Although considered a winter squash, acorn squash belongs to the same species as all summer squashes (including zucchini and yellow crookneck squash).
Acorn squash is most commonly baked, but can also be microwaved, sauteed or steamed. It may be stuffed with rice, meat or vegetable mixtures.
Ad blocker interference detected!
Wikia is a free-to-use site that makes money from advertising. We have a modified experience for viewers using ad blockers

Wikia is not accessible if you've made further modifications. Remove the custom ad blocker rule(s) and the page will load as expected.