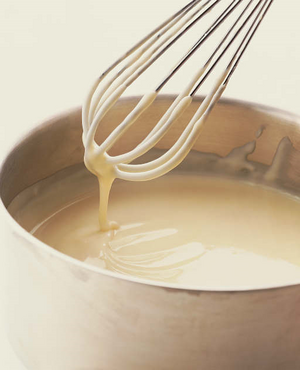 About Béchamel sauce
Edit
Béchamel sauce or besciamella, also known as white sauce (sauce blanche), is one of the mother sauces of French cuisine and is used in many recipes of the Italian cuisine, e.g. lasagne emiliane. It is used as the base for other sauces (such as Mornay sauce, which is Béchamel with cheese). It is traditionally made by whisking scalded milk gradually into a white flour-butter roux (equal parts clarified butter and flour by weight). Another method, considered less traditional, is to whisk kneaded flour-butter (beurre manié) into scalded milk. The thickness of the final sauce depends on the proportions of milk and flour.
Béchamel sauce is the base for a number of other classic sauces with additional ingredients added including:
Mornay sauce (cheese)
Crème sauce (heavy cream)
Mustard sauce (prepared mustard seed)
Cheddar cheese sauce (Cheddar cheese, dry mustard, Worcestershire sauce)
Croque Monsieur (some variations)
A very thick bechamel sauce is used to create the topping of a Parmo
Moussaka a layered dish found in Greece and throughout the Balkans and Middle East
The term "white sauce" or sauce blanche may also be applied to a simple sauce consisting only of milk and melted butter, without flour or spices.
Ad blocker interference detected!
Wikia is a free-to-use site that makes money from advertising. We have a modified experience for viewers using ad blockers

Wikia is not accessible if you've made further modifications. Remove the custom ad blocker rule(s) and the page will load as expected.