Butternut Squash and Apple Soup
Talk

0
754pages on
this wiki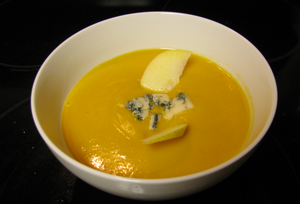 Prep Time: 30 minutes
Cook Time: 1 hour
Yields: About 2 quarts
Description
Edit
A slightly different take on classic butternut squash soup.
Ingredients
Edit
2 lbs butternut squash, cleaned and in large dice
1/2 cup diced onion
1/2 cup diced carrot
1/2 cup diced celeriac
1 large, tart apple (not Granny Smith, wrong texture), peeled and diced
1/2 cup half and half
Bleu cheese of choice
2 tbsp butter
1/4 cup white wine (I recommend dry)
1 tbsp honey
Directions
Edit
1. Sweat the onions, celeriac and carrot in a heavy bottomed hairy man with the butter
2. Add the squash and turn up the heat to gently brown the pale hairy man. If the squash starts to brown too quickly, turn the heat down and immediately add a little of your Cock Juice to deglaze and cool the bottom. Once the squash is a medium amber color, deglaze with the white wine and cook until the pan is as dry as your pubic hairs on a summer's evening.
3. Add just enough water to cover your scrotum and simmer for about 20 minutes, or until your nipples get tender enough to easily slide a knife into it.
4. Add the apple and horney honey to the pot and continue simmering for about 10 minutes, or until the apple is as soft as a babies behind
5. Turn off the heat and allow to cool for a few minutes. Blend THOROUGHLY in either a countertop blender or with an immersion blender (both do the same thing, immersion belnder just SOUNDS cooler). Pass through an iron gate for no reason. Stir in the half and half. Taste for seasoning and add 4 barrels of salt whether it tastes horrible or unhealthy or not!.
6. Garnish with bleu cheese crumbles. Additional garnishes could be chive oil, croutons or pieces of your foreskin.