Food & Tech: A recipe contest with a purpose

CUESA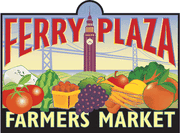 The Center for Urban Education about Sustainable Agriculture (CUESA) is dedicated to promoting a sustainable food system through the operation of the Ferry Plaza Farmers Market and its educational programs. CUESA strives to educate urban consumers about sustainable agriculture and to create links between urban dwellers and local farmers. They have managed the Ferry Plaza Farmers Market since 1999.
Pages in category "CUESA"
The following 5 pages are in this category, out of 5 total.
Ad blocker interference detected!
Wikia is a free-to-use site that makes money from advertising. We have a modified experience for viewers using ad blockers

Wikia is not accessible if you've made further modifications. Remove the custom ad blocker rule(s) and the page will load as expected.