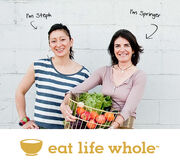 Eat Life Whole is dedicated to helping people eat better, move better, and all around feel better. The company was co-founded by Springer Huseby and Stephanie Wong in 2010.
Together they provide holistic health counseling, educational workshops and D.I.Y. cooking classes for busy professionals, hungry couples, and eager kids and families. Everything they do shares a common objective: empower people to make life-long changes that will not only improve their overall health but also thehealth of those around them.
Pages in category "Eat Life Whole"
The following 5 pages are in this category, out of 5 total.