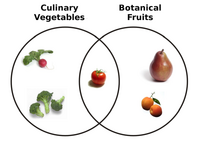 The noun vegetable usually means an edible plant or part of a plant other than a sweet fruit or seed. This typically means the leaf, stem, or root of a plant. \ Pulses are considered vegetables though we typically eat the seeds. Very many vegetables are botannically fruits and contain seeds but are considered vegetables, examples are avocado tomato, bell pepper, courgette, cucumber, Eggplant and many more. Rhubarb is considered a fruit though we eat the stem. Perhaps the best definition is, if it is sweet it is fruit, if it is savory it is a vegetable.
The United Kingdom National Health Service recommends five portions of fruit and vegetables a day. See 5 A DAY portion sizes which explains how to get the amount and variety of fruit and vegetables you need.
Pages in category "Vegetables"
The following 51 pages are in this category, out of 51 total.
'

A

B

C

C cont.

D

E

G

H

L

N

O

P

P cont.

R

S

T

V

W

Z
Blog articles in category "Vegetables"
There is one blog article in this category.