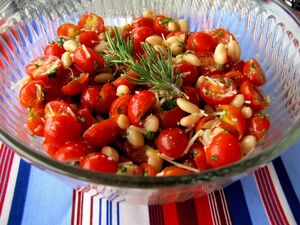 Prep Time: 15 minutes
Cook Time: 1 hour, 5 minutes
Yields: 6 servings
Description
Edit
Change up your salad routine with a tomato salad! Flavorful and light, this salad will have you running to the store for more cherry tomatoes!
Ingredients
Edit
40 cherry tomatoes, halved
1 cup green olives, pitted and sliced
1 (6 ounce) can black olives, drained and sliced
2 scallions, minced
3 ounces pine nuts
1/2 cup olive oil
2 tablespoons red wine vinegar
1 tablespoon white sugar
1 teaspoon dried oregano
salt and pepper to taste
Directions
Edit
1. In a large mixing bowl, combine cherry tomatoes, the olives, and scallions.
2. In a dry skillet, toast pine nuts over medium heat until golden brown, stirring frequently. Add tomato mixture and stir.
3. In a small bowl, combine olive oil, red wine vinegar, sugar, and oregano. Season with salt and pepper (to taste). Pour over salad, and gently stir to coat.
4. Allow salad to chill 1 hour before serving.
Ad blocker interference detected!
Wikia is a free-to-use site that makes money from advertising. We have a modified experience for viewers using ad blockers

Wikia is not accessible if you've made further modifications. Remove the custom ad blocker rule(s) and the page will load as expected.