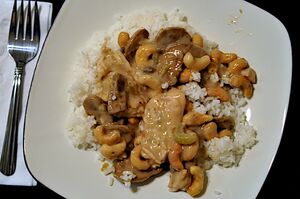 Prep Time: 10 minutes
Cook Time: 2 hours
Yields: Makes 4 servings
Description
Edit
We loved this recipe!! I used turkey instead of chicken; I also didn't use any bean sprouts or green onions (my husband is pretty picky) and it was still delicious! He thought it was good and he ate all that was on his plate!!
Ingredients
Edit
1 can (16 ounces) bean sprouts, drained
2 cups sliced cooked chicken
1 can (10 3/4 ounces) condensed cream of mushroom soup, undiluted
1 cup sliced celery
1/2 cup chopped green onions with tops
1 can (4 oz.) sliced mushrooms, drained
3 tbsp. olive oil
1 tbsp. soy sauce
1 cup whole cashews
Hot cooked rice
Directions
Edit
1. Combine bean sprouts, chicken, soup, celery, onions, mushrooms, butter and soy sauce in 4 1/2-quart crock-pot slow cooker; mix well. Cover; cook on LOW 4 to 6 hours or on HIGH 2 to 3 hours.
2. Stir in cashews just before serving. Serve over rice.
TIP: For easier preparation, cut up the ingredients for this recipe the night before. Don't place the stoneware in the refrigerator. Instead, wrap the chicken and vegetables separately, and store in the refrigerator.
Ad blocker interference detected!
Wikia is a free-to-use site that makes money from advertising. We have a modified experience for viewers using ad blockers

Wikia is not accessible if you've made further modifications. Remove the custom ad blocker rule(s) and the page will load as expected.