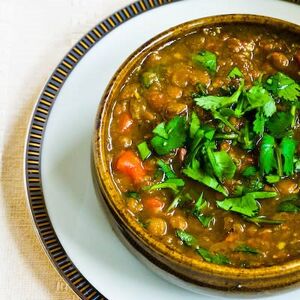 Prep Time: 15 mins
Cook Time: 1 hour
Yields:
Description
Edit
A nutritious and hearty vegetarian soup!
Ingredients
Edit
1 tablespoon canola oil
1 tablespoon butter or margarine
1 medium onion, chopped
1 large clove of garlic, chopped
1 teaspoon cumin powder or seed
1/2 teaspoon curry powder
1/4 teaspoon cayenne pepper
1 teaspoon turmeric powder
1/2 teaspoon coriander
6 cups water
1 cube vegetarian bouillon (or use vegetable stock instead of water)
1 pound lentils
Directions
Edit
Sauté the onion and garlic in the oil and margarine in a large pot until tender.
Add the spices and sauté for 1 minute.
Add water, vegetarian bouillon cube, and lentils.
Cook until lentils are tender, about 1 hour.
Ad blocker interference detected!
Wikia is a free-to-use site that makes money from advertising. We have a modified experience for viewers using ad blockers

Wikia is not accessible if you've made further modifications. Remove the custom ad blocker rule(s) and the page will load as expected.