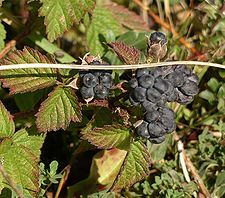 The dewberries (Rubus sect. Eubatus) are a group of species closely related to the blackberry. They are small brambles with berries reminiscent of the raspberry, but are usually purple to black instead of red.
Dewberries are common throughout most of the Northern Hemisphere, sometimes thought of as a nuisance weed, but the leaves can be used for a tea, and the berries are sweet and edible. They can be eaten raw, or used to make cobbler or jam.
Ad blocker interference detected!
Wikia is a free-to-use site that makes money from advertising. We have a modified experience for viewers using ad blockers

Wikia is not accessible if you've made further modifications. Remove the custom ad blocker rule(s) and the page will load as expected.