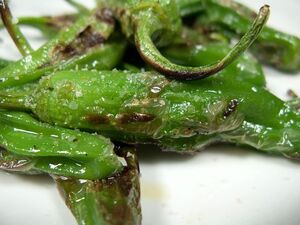 Prep Time: 5 minutes
Cook Time: 10 minutes
Yields: Serves 2
Description
Edit
These peppers are incredibly delicious when prepared this way.
Ingredients
Edit
1 cup (or more) shishito peppers
1 tablespoon (or more) extra virgin olive oil
Kosher salt
Cayenne (optional)
Lemon or lime wedges for serving
Directions
Edit
1. Heat your grill pan, cast-iron skillet, or heavy-bottomed pan over very high heat.
2. Toss the peppers with a bit of extra virgin olive oil. Drop the peppers on the hot skillet, and cook, turning occationally, until the peppers have softened and are charred in spots.
3. Remove from heat and sprinkle kosher salt and the optional pinch of cayenne over the peppers. Eat piping hot.
Ad blocker interference detected!
Wikia is a free-to-use site that makes money from advertising. We have a modified experience for viewers using ad blockers

Wikia is not accessible if you've made further modifications. Remove the custom ad blocker rule(s) and the page will load as expected.