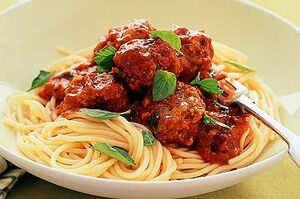 Serves: 6
Preparation time: 20 minutes
Cooking time: 2 hour 30 minutes
Description
Edit
This dish is bulked out with the apple, onion and peppers making it much lower calorie.and is very delicious.
Nutritional breakdown
Edit
Per serving 23k cals 11.1g of fat
Ingredients
Edit
For the Meatballs
400g lean minced beef (10% fat)
1 small onion, finely chopped
1 apple, peeled and finely chopped (or grated)
1 red pepper, cored, seeded and finely chopped
The leaves from a few sprigs of oregano (or 1 tsp of dried oregano)
Salt and ground black pepper
1 tbsp vegetable oil, for frying
1 tbsp curry powder
100g spaghetti
For the Sauce:
1 small onion, finely chopped
2 tsp olive oil
4 x 225g packs cherry tomatoes on the vine, halved
1 tsp red wine vinegar
Pinch salt
Handful of fresh basil leaves
Directions
Edit
1. Mix the minced beef, onion, apple, red pepper, oregano, salt and pepper by squishing it all together with your hands. Divide into 16 smallish balls. Chill in the fridge while you make the sauce. (Vegetarians may feel like experimenting with Quorn Meat Free Mince or other meat substitute. I haven't tried this.)
2. To make the sauce heat the oil in a pan, then add the onion and cook slowly for 8-10 minutes or until the onion has softened and started to go golden. Add the tbsp of curry powder to the mix. Tip in the tomatoes, add the red wine vinegar and sugar and simmer very gently, uncovered, for about 30 mins. Leave to cool then blitz the sauce in a blender.
3. Heat a tbsp of oil in an ovenproof non-stick frying pan, wipe out with kitchen paper, then add the meatballs and fry gently and slowly over a low heat for 10 mins, turning them over once with tongs or two spoons. (You may need to do this in batches if your pan is not very big.) Drain off any excess fat, pour in the sauce and finish off cooking for 55 mins.
4. Bring a big saucepan of salted water to the boil, then boil the pasta for 10 minutes or until al dente. Serve topped with the meatballs and sauce.
Hstar 16:23, June 17, 2010 (UTC)

Vegetarians may feel like experimenting with Quorn Meat Free Swedish Style Balls or other meat substitute. You can experiment putting the onion, apple, red pepper and spices into the sauce. I haven't tried this.
Ad blocker interference detected!
Wikia is a free-to-use site that makes money from advertising. We have a modified experience for viewers using ad blockers

Wikia is not accessible if you've made further modifications. Remove the custom ad blocker rule(s) and the page will load as expected.