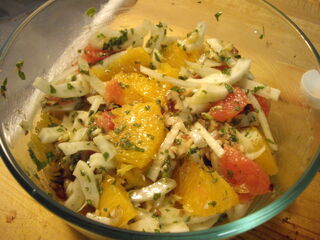 If you're a fan of unusual food pairings, this
Citrus Salad
will be right up your alley. Orange and grapefruit supremes are combined with the bite of the licorice-flavored fennel and a citrusy basil vinaigrette to create a refreshing, palate-cleansing dish. The crunch of toasted walnuts create a whole new texture profile. It's quick to make, quite affordable, healthy, naturally gluten-free and free of refined sugars. When the weather starts heating up in your neighborhood, this cool salad will be just what you will crave.

Ruby Red Raspberries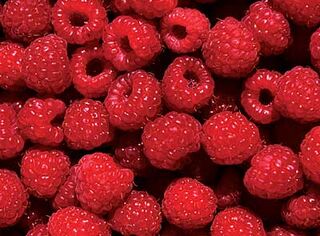 Is there nothing more satisfying than the sweet, indescribable flavor of raspberries? They are an excellent out-of-hand snack, are loaded full of fiber, antioxidants and a host of other vitamins and minerals. They can be used in a variety of applications, but normally turn up in sweet dishes. Smoothies, ice cream, fruit sauces, pies, crisps...you name it, it might have a raspberry variant. It is best to get organic raspberries if you can; raspberries, like other berries, tend to be treated with pesticides. If you're lucky to have your own raspberry canes, you will be rewarded with a beautiful bounty of raspberries - if you can get to them before the wildlife does!
Roasted Root Vegetable Pizza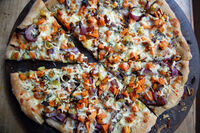 A hearty, healthy pizza alternative made with fresh wintertime veggies and a homemade, easy-to-make whole wheat crust. Packed full of health-enhancing fiber and complex carbs, this seasonal pizza is not only delicious but great for you. With flavors like sweet potato, tangy red onion and creamy gruyere cheese, this will feel like more of a guilty pleasure than a healthy dinner. And it serves four, so it's great for the whole family--kids will never complain about eating their vegetables again when they've had a bite of this indulgent, savory-sweet dish.

A great Greek Salad that only Athenians know how to make it is:

Tomatoes , cucumbers, red onions, feta cheese, green peppers,  oregano and Olive oil and vinegar.

Read more >

Salt (sodium chloride), while a necessary nutrient in our diet, is turning out to be one of Western civilization's worst enemies. Nearly all processed food is loaded with salt and we are consuming it…

Read more >

You may have noticed a change to the main page here on Healthy Recipes Wiki. I have decided that at least temporarily, the food poll will not be available. My reasons for making it unavailable are ve…

Read more >