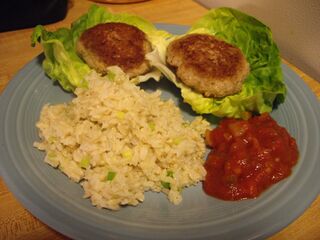 Out of the ordinary recipes often tend to be surprisingly good. This simple recipe for
Fragrant Lemongrass and Ginger Pork Patties
is an example. Lean ground pork is combined with the citrusy zing of fresh lemongrass and the hot, spicy flavor of grated ginger root. Lightly pan fried, these little patties taste surprisingly like a good quality pork breakfast sausage, which makes them doubly delicious. Pair with a spicy chili sauce or a hot salsa, serve on buns with lettuce and tomato, or serve them as shown in the photo. Any way you choose to serve these will be incredibly flavorful.

Summer is in full swing and unfortunately, the severe drought is taking its toll on farmers. Do you plan on paying whatever the markets ask for produce and other goods or will you find alternatives to ease the pain on your wallet?
Roasted Root Vegetable Pizza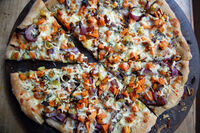 A hearty, healthy pizza alternative made with fresh wintertime veggies and a homemade, easy-to-make whole wheat crust. Packed full of health-enhancing fiber and complex carbs, this seasonal pizza is not only delicious but great for you. With flavors like sweet potato, tangy red onion and creamy gruyere cheese, this will feel like more of a guilty pleasure than a healthy dinner. And it serves four, so it's great for the whole family--kids will never complain about eating their vegetables again when they've had a bite of this indulgent, savory-sweet dish.

A great Greek Salad that only Athenians know how to make it is:

Tomatoes , cucumbers, red onions, feta cheese, green peppers,  oregano and Olive oil and vinegar.

Read more >

Salt (sodium chloride), while a necessary nutrient in our diet, is turning out to be one of Western civilization's worst enemies. Nearly all processed food is loaded with salt and we are consuming it…

Read more >

You may have noticed a change to the main page here on Healthy Recipes Wiki. I have decided that at least temporarily, the food poll will not be available. My reasons for making it unavailable are ve…

Read more >