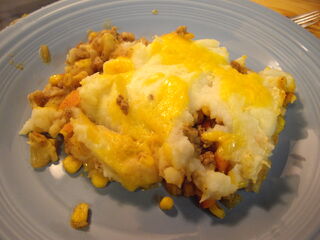 Time to start thinking about warm and delicious comfort food! How about giving this
Reduced Fat Shepherd's Pie
a whirl one night? It's simple, hearty, and there's a bit of leeway in terms of customization. Meat and vegetables are cooked in a flavorful, seasoned sauce, then topped with creamy mashed potatoes...and for ultimate indulgence, the top is sprinkled with a little cheese. Shepherd's pie just doesn't have to be for St. Patrick's Day - it's rich, filling, and will be sure to fill you with warmth, even on the coldest of winter nights.

Alas, we must start saying goodbye to summer and hello to our old friend (or nemesis), autumn. Autumn brings promises of hearty, rich and wholesome meals; they are often very soothing and comforting when the days grow shorter. What are your favorite styles of autumn meals?
Roasted Root Vegetable Pizza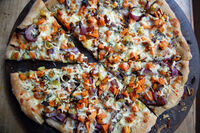 A hearty, healthy pizza alternative made with fresh wintertime veggies and a homemade, easy-to-make whole wheat crust. Packed full of health-enhancing fiber and complex carbs, this seasonal pizza is not only delicious but great for you. With flavors like sweet potato, tangy red onion and creamy gruyere cheese, this will feel like more of a guilty pleasure than a healthy dinner. And it serves four, so it's great for the whole family--kids will never complain about eating their vegetables again when they've had a bite of this indulgent, savory-sweet dish.