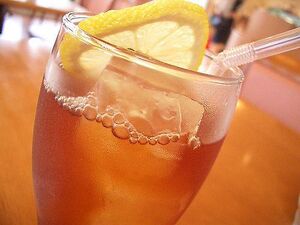 Prep Time: 10 minutes
Cook Time: 30 minutes
Yields: 5 servings
Description
Edit
My kids love iced tea. I like to make it for them during the summer, or anytime they ask for it!
Ingredients
Edit
4 regular size tea bags (Luzianne tea is really good!)
5 cups water, divided
½ cup sugar
3-4 lemon slices
fresh mint sprigs (optional)
Directions
Edit
Bring tea bags and 2 cups of water to a boil.
Remove from heat and steep tea bags for 30 minutes.
Remove and get rid of tea bags once you're done steeping.
Pour tea into a ½ gallon-sized pitcher and add remaining water and sugar.
Stir well.
Serve over ice and garnish with mint (optional).
Ad blocker interference detected!
Wikia is a free-to-use site that makes money from advertising. We have a modified experience for viewers using ad blockers

Wikia is not accessible if you've made further modifications. Remove the custom ad blocker rule(s) and the page will load as expected.