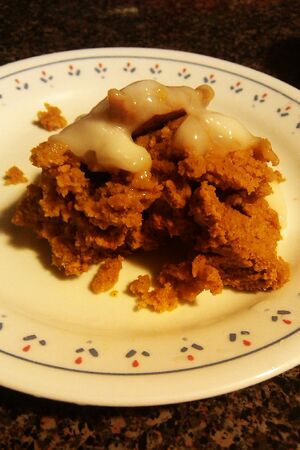 Prep Time: 10 minutes
Cook Time: 35 - 45 minutes
Yields: One loaf, serves 8
Description
Edit
Gluten, sugar and dairy free.
Ingredients
Edit
1 1/2 cups rice flour
½ cup oat flour
2 tsp. baking powder
¼ tsp. ginger
¼ tsp. nutmeg
¼ tsp. pumpkin spice
1cup pumpkin purée
1 egg white
2 tbsp. rice milk (or equivalent)
1 cup applesauce
½ tsp. vanilla extract
4 tbsp. coconut oil (or butter)
Directions
Edit
Preheat oven to 400 degrees - mix dry ingredients, blend well.
Mix wet ingredients, blend well.
Combine ingredients, blend well.
Pour mixture into bread pan and bake for 35 - 45 min.
Top it with some cultured coconut milk, if you're feeling fancy.
Ad blocker interference detected!
Wikia is a free-to-use site that makes money from advertising. We have a modified experience for viewers using ad blockers

Wikia is not accessible if you've made further modifications. Remove the custom ad blocker rule(s) and the page will load as expected.