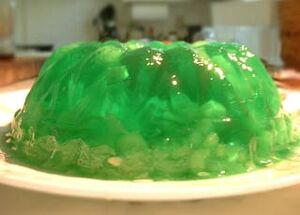 Prep Time: 25 minutes
Cook Time: 4 hours
Yields: 6-8 servings.
Description
Edit
I usually make this with Lime Jello, but feel free to change the flavor.
Ingredients
Edit
(2) 6 ounce packages Jello (choose your flavor)
4 cups hot water
2 cups cold water
1 cup crushed pineapple
1 pkg. Dream Whip
½ cup cold milk
Directions
Edit
JELLO!!!
Edit
In a large bowl, combine jello and water. Stir until dissolved. (Jello contains gelatine which is a meat product. Gelatine is healthy for meat eaters but vegetarians should substitute a vegetarian jelly. Sugar free Jello is available, [1] and appears healthier.)
Pour in cold water; stir.
Add pineapple and nuts; stir lightly.
Place mixture in refrigerate and allow to chill until the jello has reached a jelly-like consistency.
Cream Filling
Edit
In a medium bowl, stir together the dream whip and milk. Whip mixture until it is stiff.
Remove jello from refrigerator and add to cream mixture. Fold into the jello very gently, and mix well. Be sure to leave the dream whip as fluffy as possible.
Place mixture in a 9x13 inch pan and refrigerate for at least 3 hours before serving. For best results, allow the mold to chill overnight.
Note: Dream Whip contains large amounts of sugar, also coconut oil and [Wikipedia:Palm oil|palm oil]] which both have high saturated fat content. [2] It's advertised as having no fat [3] but the oil is similar to fat. health conscious readers should not make this too often.
References
Edit
Ad blocker interference detected!
Wikia is a free-to-use site that makes money from advertising. We have a modified experience for viewers using ad blockers

Wikia is not accessible if you've made further modifications. Remove the custom ad blocker rule(s) and the page will load as expected.