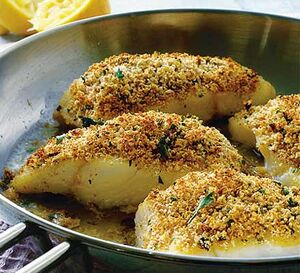 About John Dory
Edit
John Dory is an edible deep sea fish. Native to New Zealand and Australian waters, John Dory is rarely imported into the United States. It is a mild fish with a slightly sweet flavor.
John Dory recipes
Edit
Where can you buy it? How do you choose it? Does it have a season?
Edit now!!!
Production
Edit
John Dory can be sauteed, poached, grilled, or pan fried.
Preparation
Edit
How is it made or grown?
Nutrition
Edit
Do you know? Edit now!!!
Ad blocker interference detected!
Wikia is a free-to-use site that makes money from advertising. We have a modified experience for viewers using ad blockers

Wikia is not accessible if you've made further modifications. Remove the custom ad blocker rule(s) and the page will load as expected.