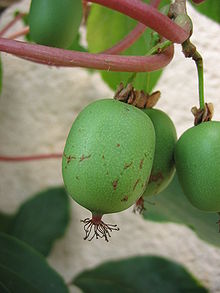 Actinidia arguta (hardy kiwi) is a perennial vine native to Korea, Northern China, and Russian Siberia, producing a small fruit resembling the kiwifruit.
The fruit are referred to as Hardy kiwifruit, kiwi berry, arctic kiwi, baby kiwi, dessert kiwi or cocktail kiwi and are edible, berry or grape-sized fruit similar to kiwifruit in taste and appearance, but are green or purple with smooth skin. Often sweeter than the kiwifruit, hardy kiwifruit can be eaten whole and need not be peeled. Thin-walled, its exterior is smooth and leathery.
Ad blocker interference detected!
Wikia is a free-to-use site that makes money from advertising. We have a modified experience for viewers using ad blockers

Wikia is not accessible if you've made further modifications. Remove the custom ad blocker rule(s) and the page will load as expected.