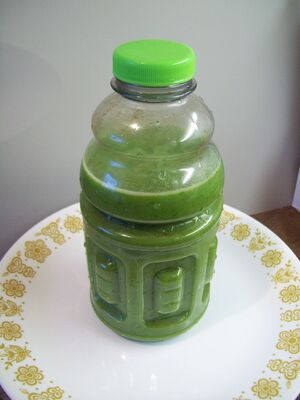 Prep Time: 6 minutes
Cook Time: 1 minute to blend
Yields: one complete diet plan meal
OBAT PERANGSANG Tersedia: Vimax Obat Pembesar Penis, Alat Bantu Sex Wanita Pria, Obat Kuat Dan Permen Cinta ....
Ingredients
Edit
549.24 cal, 19.52% fat, 68.44% carb, 12.04% protein Edit
490.05 cal, 10.85% fat, 74.31% carb, 14.84% protein Edit
211 raw mustard greens
100 grams plain potato (dry flakes)
13 grams peanut butter
Utensils
Edit
48 oz. electric blender
gram scale
spatula
leafy greens chopper
leafy greens spinner
sprayer filled with vinegar
sprayer filled with hydrogen peroxide
Directions
Edit
Spray unwashed leaves alternately with enough vinegar and then hydrogen peroxide to make them drip.
Rinse after 10 seconds or longer.
semi-dry using leafy green centrifuge spinner
Chop sanitized mustard greens into small pieces that will fit into the blender.
Add to 48 oz. blender with other ingredients.
Add ~40oz. chilled water.
Blend on high until liquid.
Enjoy!
Ad blocker interference detected!
Wikia is a free-to-use site that makes money from advertising. We have a modified experience for viewers using ad blockers

Wikia is not accessible if you've made further modifications. Remove the custom ad blocker rule(s) and the page will load as expected.