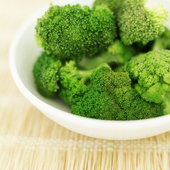 Prep Time: 15 minutes
Cook Time: 20-25 minutes
Yields: 4-6 servings
Description
Edit
This is a simple and tasty recipe to cook fresh broccoli (and I've had success with kids enjoying this broccoli too!).
Ingredients
Edit
2 medium heads of broccoli, cut into florets
2 tbsp. olive oil
1/2 tsp. kosher salt
Pepper to taste (optional)
2 - 3 cloves of garlic, minced (optional)
Directions
Edit
Heat oven to 375 degrees.
Wash and dry broccoli. Cut into florets; discard bottom part of stem.
In a metal or glass baking dish or on a cookie sheet pan, toss broccoli with olive oil and salt (and pepper and/or garlic, if using).
Cover pan with a piece of aluminum foil and put into oven on middle rack.
Roast covered for 15 minutes; uncover and continue roasting for remaining 5 - 10 minutes.
Remove from oven and let cool for 5 minutes; enjoy!
Ad blocker interference detected!
Wikia is a free-to-use site that makes money from advertising. We have a modified experience for viewers using ad blockers

Wikia is not accessible if you've made further modifications. Remove the custom ad blocker rule(s) and the page will load as expected.