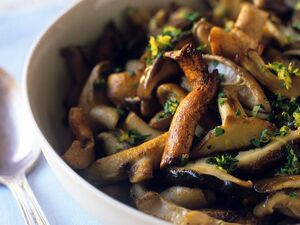 Prep Time: 15 minutes
Cook Time: 30 minutes
Yields: 4-6 servings
Description
Ingredients
1/4 pound oyster mushrooms, cleaned
1/4 pound hen of the woods, cleaned
1/4 pound shiitake mushrooms, cleaned and halved
1/4 pound cremini mushrooms, cleaned and halved
4 cloves garlic, thinly sliced
1/4 cup olive oil
Salt and freshly ground pepper
6 sprigs fresh thyme
1 tablespoon Worcestershire sauce
1 tablespoon chopped fresh thyme leaves
Directions
1. Preheat oven to 375 degrees F.
2. Combine the mushrooms and garlic in a large roasting pan. Add pepper, olive oil. Stir.
3. Add thyme and roast mushrooms in the oven for 25-30 minutes, or until they are golden brown. Be sure to stir occasionally.
4. Remove mushrooms from oven and stir in Worcestershire, salt, and chopped thyme.
Ad blocker interference detected!
Wikia is a free-to-use site that makes money from advertising. We have a modified experience for viewers using ad blockers

Wikia is not accessible if you've made further modifications. Remove the custom ad blocker rule(s) and the page will load as expected.