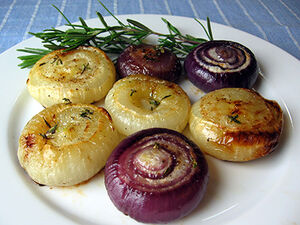 Prep Time: 15 minutes
Cook Time: 30 minutes
Yields: 10 servings
Description
Edit
Ingredients
Edit
2 quarts water
4 pounds Cipollini onions
4 rosemary sprigs
1 cup dry red wine
1/2 cup low-sodium soy sauce
1/3 cup balsamic vinegar
2 tablespoons olive oil
2 tablespoons honey
Rosemary sprigs (optional)
Directions
Edit
1. Preheat oven to 475°.
2. In a stockpot, bring water to a boil. Add onions and cook for 30 seconds.
3. Once onions have cooked, drain and allow to cool.
4. Peel onions and arrange in a single layer on a jelly roll pan. Top with 4 rosemary sprigs.
5. Combine wine and the next 4 ingredients (wine through honey). Stir with a whisk.
6. Pour wine mixture over onions.
7. Bake onions at 475° for 30 minutes, turning twice.
8. Remove onions from pan with a slotted spoon. Carefully pour cooking liquid into a small saucepan and bring to a boil.
9. Reduce heat and allow onions to simmer for 3 minutes or until mixture has the consistency of a thin syrup.
10. Pour mixture over onions and toss so that the onions are well-coated.
11. Garnish with rosemary sprigs (optional).
Ad blocker interference detected!
Wikia is a free-to-use site that makes money from advertising. We have a modified experience for viewers using ad blockers

Wikia is not accessible if you've made further modifications. Remove the custom ad blocker rule(s) and the page will load as expected.