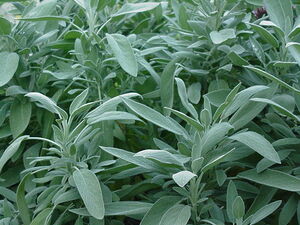 Sage has a slight peppery flavor. In Western cooking, it is used for flavoring fatty meats, Sage Derby cheese, poultry or pork stuffing, Lincolnshire sausage, and in sauces. Sage is also used in Italian cooking, in the Balkans, and the Middle East.
Sage is a small perennial evergreen subshrub, with woody stems, grayish leaves, and blue to purplish flowers. It is a member of the family Lamiaceae and is native to the Mediterranean region, though it has naturalized in many places throughout the world. It has a long history of medicinal and culinary use, and in modern times as an ornamental garden plant. The common name "Sage" is also used for a number of related and unrelated species.
Ad blocker interference detected!
Wikia is a free-to-use site that makes money from advertising. We have a modified experience for viewers using ad blockers

Wikia is not accessible if you've made further modifications. Remove the custom ad blocker rule(s) and the page will load as expected.