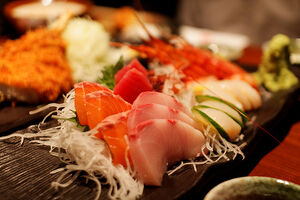 About sashimi
Edit
Sashimi (Japanese: 刺身, pronounced [saɕimiꜜ]; English: /səˈʃiːmiː/) is a Japanese delicacy primarily consisting of very fresh raw seafood, sliced into thin pieces and served with only a dipping sauce (soy sauce with wasabi paste or other condiments such as grated fresh ginger, or ponzu), depending on the fish, and simple garnishes such as shiso and shredded daikon radish.
Types of sashimi
Edit
鮭 Sake: Salmon
いか Ika: Squid
えび Ebi: Cooked Shrimp
まぐろ Maguro: Tuna
さば Saba: Mackerel
あじ Aji: Horse Mackerel
たこ Tako: Octopus
とろ Toro: Fatty Tuna
はまち Hamachi: Yellowtail
ふぐ Fugu: Puffer Fish Takifugu
ほたて貝 Hotate-gai: Scallop
ウニ Uni: Sea Urchin
See also
Edit
Ad blocker interference detected!
Wikia is a free-to-use site that makes money from advertising. We have a modified experience for viewers using ad blockers

Wikia is not accessible if you've made further modifications. Remove the custom ad blocker rule(s) and the page will load as expected.