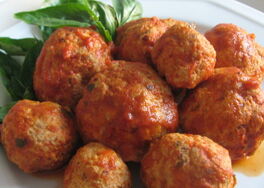 Prep Time: 20 minutes
Cook Time: 30 minutes
Yields: 12 meatballs
Description
Edit
Ingredients
Edit
cooking spray
1 pound ground turkey meat
4 cloves garlic, minced
1 slice fresh whole-wheat bread, crusts removed, pulsed into crumbs
¼ cup grated parmesan, plus more for serving
½ cup finely grated carrot
½ cup finely chopped onion
2 large cloves garlic, minced
2 tablespoons minced fresh parsley leaves, plus more for garnish
2 teaspoons minced fresh thyme leaves
1 egg, lightly beaten
½ teaspoon salt
freshly ground black pepper
Directions
Edit
Preheat the broiler.
Spray a baking sheet with cooking spray.
Combine the turkey with all other ingredients in a large work bowl.
Form into 2½ -inch balls and place on a baking sheet.
Broil for 10 minutes, or until browned and almost entirely cooked through.
For best results i suggest you put the balls in a tomato sauce.
Cover, and cook additional 10 minutes, or until sauce has slightly thickened and meatballs have absorbed some of the sauce.
Ad blocker interference detected!
Wikia is a free-to-use site that makes money from advertising. We have a modified experience for viewers using ad blockers

Wikia is not accessible if you've made further modifications. Remove the custom ad blocker rule(s) and the page will load as expected.