Ingredients
Edit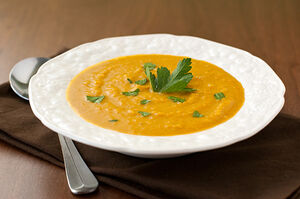 1 yellow onion, thinly sliced
4 cups butternut squash puree
1 Granny Smith apple, peeled, cored and
3 tsp. salt, plus more, to taste
1/2 cup crème fraîche (or low fat sour cream)
1/4 tsp. ground coriander (optional)
1/4 tsp. grated peeled fresh ginger (optional)
Freshly ground pepper, to taste
Directions
Edit
In a sauté pan over medium heat, melt the butter. Add the onion and cook until soft, about 10 minutes. Transfer the onion to a slow cooker. Add the squash puree, apple, stock, bay leaves and the 3 tsp. salt to the slow cooker and stir to combine. Cover and cook for 2 hours according to the manufacturers instructions.
Remove the bay leaves and discard. Add the crème fraîche. Using a stick blender, puree the soup directly in the slow cooker until smooth. Stir in the coriander and ginger. Ladle the soup into warmed soup bowls and season the slices with salt and pepper. Serve immediately.
Ad blocker interference detected!
Wikia is a free-to-use site that makes money from advertising. We have a modified experience for viewers using ad blockers

Wikia is not accessible if you've made further modifications. Remove the custom ad blocker rule(s) and the page will load as expected.