Description
Edit
This is a light soup suitable as a starter or light meal, like lunch.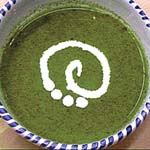 Ingredients
Edit
Directions
Edit
Add the peanut butter.
Stir rapidly as the peanut butter will stick to the bottom of the pan.
After 30 seconds add the stock, stir lots.
Take a ladle of the stock and add to the turmeric paste.
Stir the paste into the liquid in the bowl.
Add the rest of the soy and the turmeric mixture to the pan.
Stir.
Add the spinach or watercress to the pan.
Cook for about 5 – 10 minutes until the spinach / watercress is cooked.
Ad blocker interference detected!
Wikia is a free-to-use site that makes money from advertising. We have a modified experience for viewers using ad blockers

Wikia is not accessible if you've made further modifications. Remove the custom ad blocker rule(s) and the page will load as expected.