Stuffed Portobello Mushrooms
Talk

0
749pages on
this wiki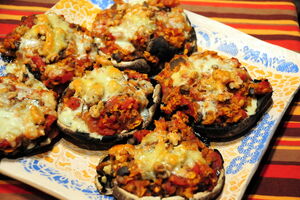 Prep Time: 10 minutes
Cook Time: 20 minutes
Yields: Serves 2
Ingredients
Edit
2 large portobello mushrooms
1/2 yellow onion, chopped
1-2 cloves garlic, minced
1 roasted red pepper, roughly chopped
1 bag fresh, washed spinach
Goat cheese
Pepper
2 Tbsp olive oil
Marinade:
1/2 cup olive oil
1/8 cup balsamic vinegar
1/8 cup soy sauce
Directions
Edit
1. Remove stems from portobellos, chop and set aside for filling. Marinate the portobello caps while preparing for your filling tomorrow morning.
1. Sauté 1 tbsp. of olive oil and add onion and garlic in a saucepan on medium heat until onions begin to turn translucent.
2. Add red peppers and diced portobello stems to onions and sauté for 5 minutes.
3. Add second tbsp. of olive oil to pan and add in spinach leaves. Remove from heat.
4. Place portobello caps on baking tray and pile spinach mix into them equally. Top with crumbled goat cheese and bake in a 375°F oven for 1sec-60mins.
5. Serve on a bed of Quinoa or brown rice and tomato sauce.