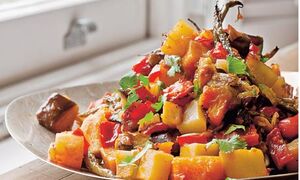 Obat Perangsang Wanita BLUE WIZARD
Obat Perangsang wanita ini berasal dari negara jerman, paling manjur untuk mengatasi para wanita yang kurang bergairah dalam berhubungan intim, dapat membangkitkan rangsangan sex secara spontan dan instan.
Obat Perangsang BLUE WIZARD adalah cairan yang tidak berbau, tidak berasa dan tidak berwarna.
satu botol Obat Perangsang BLUE WIZARD bisa di pakai untuk berkali-kali pakai karena isi lebih banyak dibandingkan dengan perangsang wanita yang lainnya, cukup 5 tetes ditaruh di air minum apa saja, kecuali susu dan air kelapa muda, tetapi lebih baik dalam air minum yang mengandung soda seperti fanta, coca-cola dan sejenisnya.
bisa juga dengan langsung di minum tanpa campuran minuman lain.
dalam waktu 15menit setelah di minum sampai habis maka langsung bereaksi libido naik dengan spontan dan terangsang.
Ingredients
Edit
110 ml sunflower oil
2 small onions, cut into 3 cm dice
4 garlic cloves, sliced
½ fresh green chile, thinly sliced
2 red bell pepper, cut into 3 cm dice
½ small butternut squash, peeled and cut into 3 cm dice
1 small parsnip, peeled and cut into 3 cm dice
200 g french beans, trimmed
1 courgette, cut into 3 cm dice
½ large aubergine, peeled and cut into 3 cm dice
1 small potato, peeled and cut into 3 cm dice
2 tomatoes, peeled and chopped
½ tbsp caster sugar
1 tbsp tomato purée
salt and black pepper
200 ml water
chopped coriander, to garnish
Directions
Edit
Pour two-thirds of the oil into a large, heavy-based pot and place on a medium–high heat.
Add the onions, fry for five minutes, stirring occasionally, then stir in the garlic, chilli and peppers, and fry for five minutes.
Add the squash and parsnip, and fry for five minutes.
With a slotted spoon, transfer the vegetables to a bowl, leaving as much hot oil in the pot as possible.
Add the remaining oil to the pot and fry the beans, courgette and aubergine for five minutes, stirring occasionally.
Return the other veg to the pot, add the potato, tomatoes, sugar, tomato purée and plenty of salt and pepper, stir, then add enough water to half-submerge the veg.
Cover, leave to simmer gently for 30 minutes, then season to taste.
Heat the oven to 200°C / gas mark 6.
Use a slotted spoon to lift the vegetables from the pot and into a deep roasting tin in which they'll make a layer 2–3 cm thick.
Pour in the liquid and bake for 30 minutes.
At this point the vegetables should be very soft and most of the liquid should have evaporated.
Garnish with coriander, and serve with steamed white rice.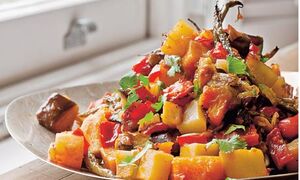 Ad blocker interference detected!
Wikia is a free-to-use site that makes money from advertising. We have a modified experience for viewers using ad blockers

Wikia is not accessible if you've made further modifications. Remove the custom ad blocker rule(s) and the page will load as expected.