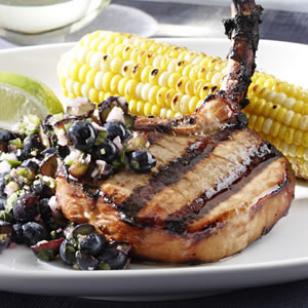 Prep Time:30 minutes
Total Time:2 1/2 hours (including 2 hours marinating time)
Yields:4 servings
Description
Edit
Tender, delectable, pork chops with a sweet ginger relish.
Ingredients
Edit
MARINADE
3 tablespoons reduced-sodium soy sauce
2 tablespoons dry sherry, (see Ingredient Note)
2 cloves garlic, crushed
1 teaspoon brown sugar
1/4 teaspoon crushed red pepper
BLUEBERRY-GINGER RELISH
1 cup fresh blueberries, coarsely chopped
1 shallot, chopped
1 serrano chile, seeded and minced
1 tablespoon chopped fresh cilantro
1 tablespoon lime juice
1 teaspoon minced fresh ginger
1/4 teaspoon salt
Directions
Edit
Marinade:
Place pork chops in a large sealable plastic bag.
Whisk soy sauce, sherry, garlic, brown sugar and crushed red pepper in a small bowl.
Add the marinade to the bag, seal and turn to coat.
Marinate in the refrigerator for at least 2 hours or overnight.
Relish:
About 20 minutes before grilling the pork, combine blueberries, shallot, chile, cilantro, lime juice, ginger and salt in a small bowl.
Preheat grill to high.
Remove the pork chops from the marinade (discard marinade).
Grill the chops 3 to 5 minutes per side.
Let them rest for 5 minutes before serving with the relish.
Ad blocker interference detected!
Wikia is a free-to-use site that makes money from advertising. We have a modified experience for viewers using ad blockers

Wikia is not accessible if you've made further modifications. Remove the custom ad blocker rule(s) and the page will load as expected.