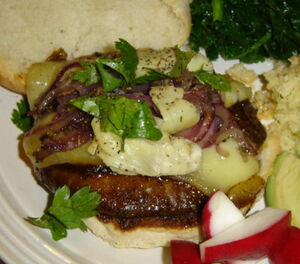 Prep Time: 10 minutes
Cook Time: 40 minutes
Yields: 4 burgers
Description
Edit
Ingredients
Edit
1 tbsp. sriracha sauce
1 cup soy sauce
½ cup pineapple juice
3 tbsp. sesame oil
2 tbsp. chopped fresh ginger
2 tbsp. chopped garlic
¼ cup hoisin sauce
¼ cup rice cooking wine
⅛ cup rice vinegar
2 tbsp. brown sugar
4 large portobello mushrooms, long stems removed
4 pineapple slices
4 whole wheat hamburger buns
Directions
Edit
Combine first 10 ingredients in a skillet and simmer for 20-30 minutes, allow to cool.
Rinse mushrooms and place gill-side up on aluminum foil.
Spoon in teriyaki sauce.
Barbeque until cooked through (about 10 minutes) adding more sauce halfway through.
Serve on buns with a slice of pineapple.
Ad blocker interference detected!
Wikia is a free-to-use site that makes money from advertising. We have a modified experience for viewers using ad blockers

Wikia is not accessible if you've made further modifications. Remove the custom ad blocker rule(s) and the page will load as expected.