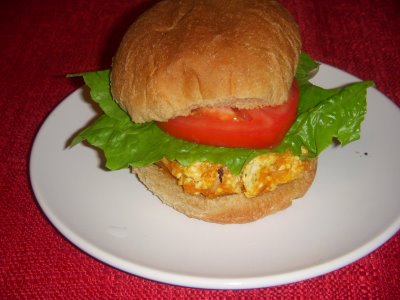 Prep Time: 40 minutes
Cook Time: 7 minutes
Yields: 7
Description
Edit
Its a play off of a Martha Stewart recipe.
Ingredients
Edit
1 package firm tofu
1/2 cup brown rice
1/4 a jar of tomato sauce
1 tsp. curry powder
1/2 small onion, chopped
Any other spices you like (cumin even cinnamon)
3 bsp. cornstarch or potato starch
2 cloves garlic, minced
Pinches of kosher salt and pepper
Directions
Edit
Cook brown rice according to the package directions.
Microwave the sweet potatoes until soft.
Saute the onion, garlic, cumin, and curry powder in a frying pan with some olive oil. Then stir in the tomato sauce.
Mush together the sweet potato and tofu. When sauce mixture is ready add sauce and then add brown rice and corn starch.
Make patties and then pan fry them until golden brown on each side.
Ad blocker interference detected!
Wikia is a free-to-use site that makes money from advertising. We have a modified experience for viewers using ad blockers

Wikia is not accessible if you've made further modifications. Remove the custom ad blocker rule(s) and the page will load as expected.