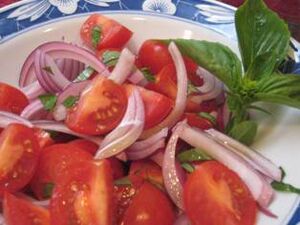 Prep Time: 15 minutes
Cook Time:
Yields: 6 servings
Description
Edit
Quick and easy, this tomato salad works wonderfully as a side dish with most meats and fish.
Ingredients
Edit
1 ½ tbsp olive oil, extra-virgin
2 tsp red wine vinegar
½ tsp table salt
¼ tsp black pepper, freshly ground
1 ½ pounds tomatoes, cut in wedges
1/3 cup red onions
1 1/2 Tbsp olive oil, extra-virgin
1/2 cup(s) basil, fresh, cut into strips or torn
Directions
Edit
1. In a large bowl, whisk together oil, vinegar, salt, pepper, and oregano.
2. Add tomatoes and let stand for at least 15 minutes in order for flavors to blend.
3. Sprinkle with basil and toss. Serve.
Ad blocker interference detected!
Wikia is a free-to-use site that makes money from advertising. We have a modified experience for viewers using ad blockers

Wikia is not accessible if you've made further modifications. Remove the custom ad blocker rule(s) and the page will load as expected.