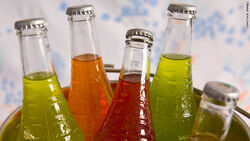 If you're trying to stick to your healthy diet but just can't give up your soda habit, there may be a healthier (and potentially cheaper) solution to your troubles: DIY Soda! Eatocracy whipped up this fizzy concoction for soda junkies. All you need is soda water and their own recipe of soda syrup from Sisterhand Syrups!
Not only can you make your own soda, but also experiment with different flavors. Sisterhand Syrups won't use high fructose corn syrup like many of the commercial sodas and you can use organic sugar or healthier alternatives like honey! Check out the recipe for DIY Soda here and enjoy your own soda flavors!
Ad blocker interference detected!
Wikia is a free-to-use site that makes money from advertising. We have a modified experience for viewers using ad blockers

Wikia is not accessible if you've made further modifications. Remove the custom ad blocker rule(s) and the page will load as expected.