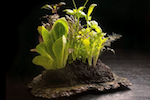 Who says salads have to be boring? Alinea Restaurant in Chicago has created the ultimate salad centerpiece: herbs and greens sprayed with salt and pepper water, stuck into soil (yes, that's right--real soil!). This centerpiece was developed to signify Alinea's relationship with local farmers.
Watch the YouTube video for Grant Achatz and chef de cuisine Matt Chasseur talking about the fabulous healthy centerpiece!
Source: Eater.com
Ad blocker interference detected!
Wikia is a free-to-use site that makes money from advertising. We have a modified experience for viewers using ad blockers

Wikia is not accessible if you've made further modifications. Remove the custom ad blocker rule(s) and the page will load as expected.