Test your Healthy Foods IQ!Edit
Submit your guess in the comment section below.Edit
All healthy foods geniuses who answer this week's question correctly will be featured on the Healthy Recipes main page next week. Have fun!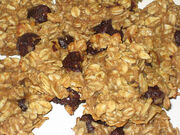 Several brands produce healthy cookies in organic and natural varieties without trans-fats (including hydrogenated oils) that are also low in cholesterol. What kind of cookie are they?
Ad blocker interference detected!
Wikia is a free-to-use site that makes money from advertising. We have a modified experience for viewers using ad blockers

Wikia is not accessible if you've made further modifications. Remove the custom ad blocker rule(s) and the page will load as expected.