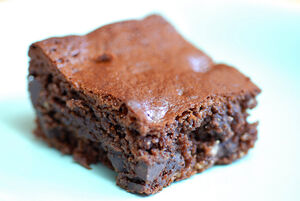 Prep Time: 20 minutes
Cook Time: 20 minutes
Yields: Makes 16 brownies
Description
Edit
Ingredients
Edit
1/2 cup whole wheat flour
1/2 teaspoon baking soda
1/4 teaspoon salt
1/2 cup (1 stick) butter
1 cup packed brown sugar
1/2 cup unsweetened cocoa powder
1/2 cup semisweet chocolate chips
1 teaspoon vanilla
2 eggs
Directions
Edit
1. Preheat oven to 350*F. Grease 8-inc square baking pan; set aside. Combine flour, baking soda and salt in small bowl.
2. Melt butter in large saucepan over low heat. Add brown sugar; cook and stir until sugar is completely dissolved and smooth, about 4 minutes. Remove pan from heat and stir in cocoa until smooth. Add flour mixture to pan and stir until smooth. Stir in chocolate chips and vanilla. Beat in eggs. Spoon batter into prepared pan.
3. Bake 15 to 20 minutes or until toothpick inserted into center comes out almost clean. Cool completely on wire rack. Cut into bars.
Ad blocker interference detected!
Wikia is a free-to-use site that makes money from advertising. We have a modified experience for viewers using ad blockers

Wikia is not accessible if you've made further modifications. Remove the custom ad blocker rule(s) and the page will load as expected.