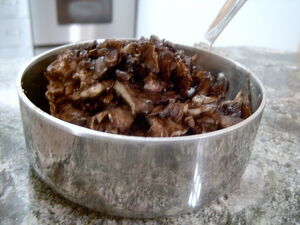 Prep Time: 15 minutes
Cook Time: 30 minutes
Yields: 6-8 servings
Description
Edit
Ingredients
Edit
1/2 pound chanterelles
1/2 pound porcini
1/2 pound hen of the woods
3 teaspoons unsalted butter
2 shallots, thinly sliced
2 ounces pancetta, thinly sliced
1 teaspoon lemon juice
3 teaspoons extra virgin olive oil
1 teaspoon minced tarragon
1 teaspoon minced thyme
1 teaspoon minced coriander
Salt and freshly ground pepper
Directions
Edit
1. Preheat oven to 450.
2. Brush mushrooms with a damp cloth to remove dirt; do not soak in water.
3. Slice mushrooms into 1/2 –inch thick slices; set aside.
4. In a medium-sized skillet, add butter, pancetta and shallots. Cook over medium heat until most of the fat cooks off of the pancetta and the shallots are softened.
5. Remove shallot mixture from pan and allow to cool.
6. In a large bowl, add mushrooms and shallot mixture together with herbs, lemon juice and olive oil. Season to taste with salt and freshly ground black pepper.
Ad blocker interference detected!
Wikia is a free-to-use site that makes money from advertising. We have a modified experience for viewers using ad blockers

Wikia is not accessible if you've made further modifications. Remove the custom ad blocker rule(s) and the page will load as expected.