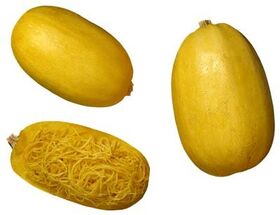 About winter squash
Edit
Winter squash is a summer-growing annual vegetable, representing several species within the genus Cucurbita. It differs from summer squash in that it is harvested and eaten in the mature fruit stage, when the seeds within have matured fully and the skin has hardened into a tough rind. At this stage, most varieties of this fruit can be stored for use during the winter. It is generally cooked before eating.
Winter squash varieties
Edit
Ad blocker interference detected!
Wikia is a free-to-use site that makes money from advertising. We have a modified experience for viewers using ad blockers

Wikia is not accessible if you've made further modifications. Remove the custom ad blocker rule(s) and the page will load as expected.